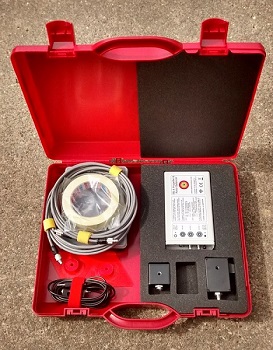 ---
We recently came back from a dynamic balancing training session with a professional balancer PB-4 made by Smart Avionics.
The training took place at Korne airfield and was lead by Mike Goodrich who is an expert at rotors balancing, test pilot and procedure developer for Smart Avionics.
 During 2 days, there was a mix of classroom and practical hands-on training that included balancing of 2 rotors on BrakoGyro.
The training was aimed at gyro mechanics and pilots who wanted to expand their knowledge about dynamic rotor balancing as well as the use of PB 4 which is a sophisticated electronic device that measures the vibration produced by an out of balance rotor or propeller and sends the data to a tablet, smartphone, laptop, etc. for display.
Starting with the basics we went through the balancer's work, the polar charts, simple single axis balancing, more complicated two axis balancing and 3 axis balancing and finally frequency spectrum analysis.
There were 6 attendees from 4 different organisations and the sessions were a lively exchange of ideas so that we all came back with a fresh knowledge. Below you can see some pictures taken during the training.